7 Best Crypto Wallets In 2022: Everything You Need To Know
Although there are many different types of crypto wallets, they all fundamentally offer a mechanism to safeguard confidential data that gives you command over your digital assets. You don't want to leave this up to chance because if you put all your crypto in the exchange and it is hacked, you might never get your cryptocurrency back.
Having your own wallet and custody of your crypto also means you have full control of the assets. Particularly if it is a hard wallet such as Ledger or Trezor. The risk of being hacked or taken by the third-party for a hard wallet is very low, provided you guard the private keys carefully and do not disclose or save it online.
There are numerous crypto and blockchain wallets designed specifically for individual cryptocurrencies. They are hard wallets or online. If you intend to store numerous types of cryptocurrency in one location, you should shop around. Here are the best crypto wallets in 2022.
1. Ledger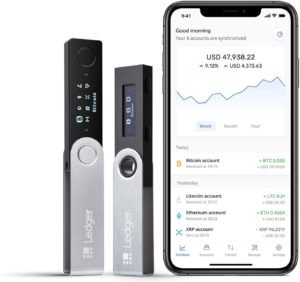 Ledger is one of the most well-known crypto wallet brands. Ledger can interact with major software wallets such as Crypto.com and Guarda and costs between $79 and $149. Ledger features a highly regarded mobile app, as well as a desktop client, and its makers have stated that a browser extension is in development. Ledger also offers two-factor authentication and an educational material library for its subscribers.
2. Trezor
Trezor provides some of the most advanced and the best hardware wallets. In addition to its $72 entry-level device, the company now offers a $255 model with a touch screen and more crypto storage. Trezor wallet includes interfaces with other crypto companies such as Exodus, but its software packages also include staking and coin purchasing. Trezor offers a PC interface, but no mobile application.
3. Exodus
Exodus wallet provides a comprehensive suite of software solutions, including a mobile application, a desktop application, and a browser extension. Its products enable users to purchase, trade, or stake cryptocurrencies straight from their cryptocurrency wallets, and its interaction with the Trezor cold wallet facilitates the transfer of cryptocurrencies between hot and cold storage.
Exodus wallet, which is free to use, includes an extensive collection of crypto-educational materials. About 150 cryptocurrencies are supported by Exodus, including several of the most popular assets. However, Exodus wallet review shows that this figure is significantly lower than that of some of its competitors, who claim that clients may store tens of thousands of distinct sorts.
4. MetaMask
If you're a frequent user of Ethereum blockchain applications, you've probably heard about the MetaMask wallet. Free and open-source, MetaMask can store any Ethereum-based digital asset. MetaMask is also compatible with a variety of Web3 applications that require cryptographic transactions to function.
MetaMask has an online crypto wallet, mobile, and browser-based wallets, but no desktop application. MetaMask's crypto wallet app also lacks direct staking functionality. However, you can easily stake tokens using web applications that connect to MetaMask.
5. Trust Wallet
Trust Wallet is one of the best crypto wallets that function in conjunction with a major cryptocurrency exchange. It is the official Binance wallet, the global digital asset exchange, and this collaboration enables users to purchase, sell, and trade cryptocurrencies straight from their crypto wallets.
It does not have a browser plugin, but its mobile app allows users to engage with decentralized applications. It also lacks a straightforward method for transitioning assets from hot to cold storage. It is, however, entirely open-source, a distinction shared by only a few competitors.
6. Coinbase Wallet
You are familiar with Coinbase but you may not know that it has one of the best crypto wallets. The company maintains the largest crypto exchange in the United States. However, Coinbase Wallet is a separate solution that enables users to store cryptocurrency on their own rather than under Coinbase's possession. Since Coinbase designed the Coinbase Wallet, it connects seamlessly with the firm's crypto exchange and may be an excellent starting point for individuals who have never used a non-custodial wallet previously.
Other characteristics of the free tool include mobile and browser-based access to decentralized applications (dApps). In addition, it lacks some features provided by competitors, such as a desktop application, while its browser extension links to the Ledger hardware wallet.
7. Crypto.com DeFi Wallet
Crypto.com DeFi Wallet is an additional wallet developed by a corporation mostly recognized for its crypto exchanges. It is designed for usage in what is known as decentralized finance (DeFi), which is a subset of the cryptocurrency world that focuses on lending, savings, and other financial products that do not rely on a central broker.
Crypto.com DeFi Wallet users can utilize their cryptocurrency holdings to interact with DeFi products via their mobile app and browser extension. A desktop application that connects with Ledger hardware wallets is also available. The possibility of two-factor authentication is an additional feature that may appeal to some security-conscious consumers.
In Summary
The best crypto wallet should be simple to use and compatible with a wide variety of coins and tokens. Hot wallets should have robust security features, such as two-factor or multi-factor authentication, and support for multi-signature transactions while costing minimum or no fees. To facilitate trading, cold wallets should be accessible at a reasonable cost and supported by a range of hot wallets. According to our research, Coinbase Wallet, Ledger Wallet, Exodus Wallet, and Trust Wallet are some of the top crypto wallets